Trinidad Stewed Lentils – Cooking With Ria
Skip to content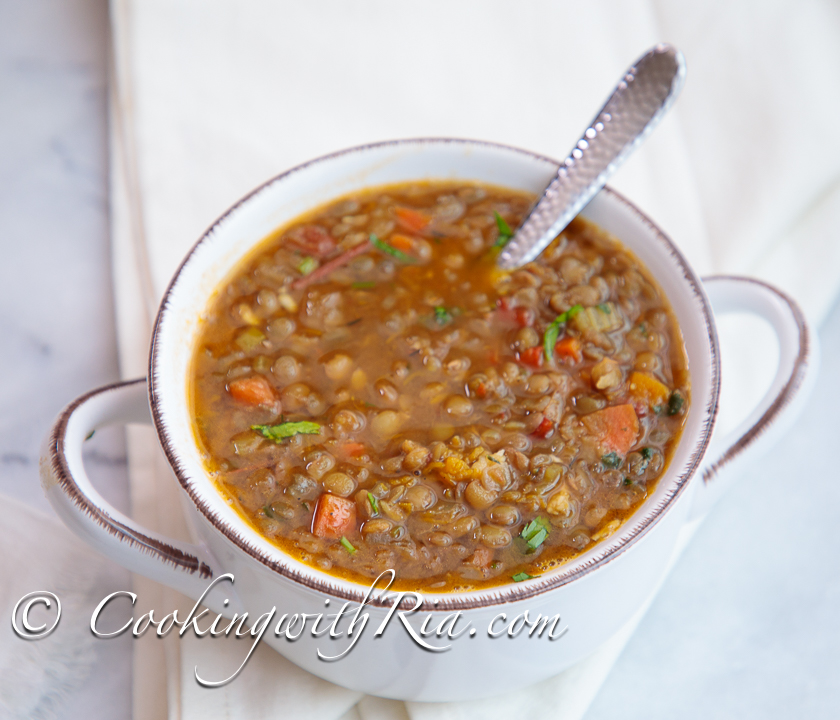 Many Trinidadian dishes are based on simplicity and this is no exception. In this recipe, lentils are simmered with simple aromatics to create an abundance of flavor. The stewing process which is the browning of sugar at the beginning of cooking adds a unique depth of flavor.
To make this a complete Trini Classic Sunday lunch, enjoy with stewed chicken, curry chicken, perfect roasted chicken, Oven BBQ Chicken, curry stew pork, curry goat, curry duck, stewed oxtail, macaroni pie or for a vegan side enjoy with cabbage and tomatoes.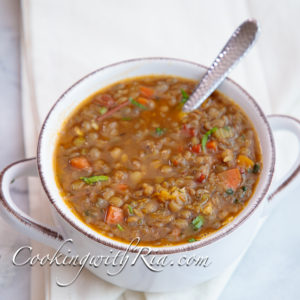 Pick through lentils, rinse with cold water, drain.

In a medium pot over high heat, add water and lentils. Once it comes to a boil reduce heat, cover and cook until tender but still whole, about 30-40 minutes.

In a separate pot, heat oil over medium heat. Add sugar and allow it to froth, bubble, expand and darken.

Add ketchup if using, green seasoning, tomato, scallions, onion, garlic, hot pepper if using, carrots, pumpkin, celery and thyme.

Reduce heat to low and cook for 10-15 minutes. Stir in lentils with liquid. Add more liquid if required.

Bring to a boil, reduce heat to medium, cover and cook for about 20-30 minutes, stirring occasionally.

Taste and add salt, brown sugar(optional), chopped herbs, pimento and freshly ground black pepper.
Calories: 187kcal | Carbohydrates: 27g | Protein: 9g | Fat: 5g | Saturated Fat: 1g | Sodium: 70mg | Potassium: 475mg | Fiber: 11g | Sugar: 5g | Vitamin A: 3459IU | Vitamin C: 12mg | Calcium: 47mg | Iron: 3mg
---
---
---
error: Content is protected!!